Gold Coast WeddingGold Coast Hinterland Wedding Venues
The Gold Coast Hinterland is a wonderfully peaceful spot, attracting people far and wide wanting to escape from the hustle and bustle of everyday life. The scenic mountains, tranquil rainforests, calls of native birdlife and its cool, calm climate also make the Hinterland a perfect spot for truly memorable weddings.
Imagine your special day with a backdrop of lush greenery in well-maintained gardens away from the constant hum of traffic. Weddings in the Hinterland enjoy temperate climates neither too hot nor too cold, clear blue skies and remarkable views. You don't need to walk far at all to find an ideal spot for wedding photos you will cherish forever.
A Hinterland Wedding is one you and your guests will never forget.
Our Wedding Ceremony Venues
The Rainforest Amphitheatre - Rainforest / Hinterland Wedding Venue
Wedding guests are comfortable and relaxed as their immediate vista encompasses a waterfall tumbling over mossy pebbles and rocks, falling to a delicate canal, bridged gently by a timber walkway. Their backdrop is the ever-imposing rainforest, with the bridal party centre-stage on a timber platform below.
As the groom waits under the elevated beams suspended by fragrant jasmine encrusted pillars, his bride steps across a stone arched bridge and magically approaches through a winding woodland path.  Dancing shadows, dappled sunlight, trickling water and birdsong add to the ambience as the happy couple takes their vows.
The all-weather canopy is an exceptional architectural feature in an outstanding location for your Gold Coast wedding. This majestic hinterland wedding venue links with the enchanting Island Glade wedding reception venue. 
The Outlook - Rainforest / Hinterland Wedding Venue
The Outlook is a grassy knoll with beautiful hedges with a beautiful rainforest backdrop - a truly memorable Hinterland wedding venue.
Within earshot of the babbling river waters of Cedar Creek, the Outlook is a gorgeous Hinterland wedding location that is sure to make your day even more special.
You may even spot some native rainforest critters in your wedding photos.
This is a truly special site for your wedding ceremony. We've seen many beautiful couples conduct their Gold Coast wedding on The Outlook, could your special day be next?
Lake Water Lily - Garden Wedding Venue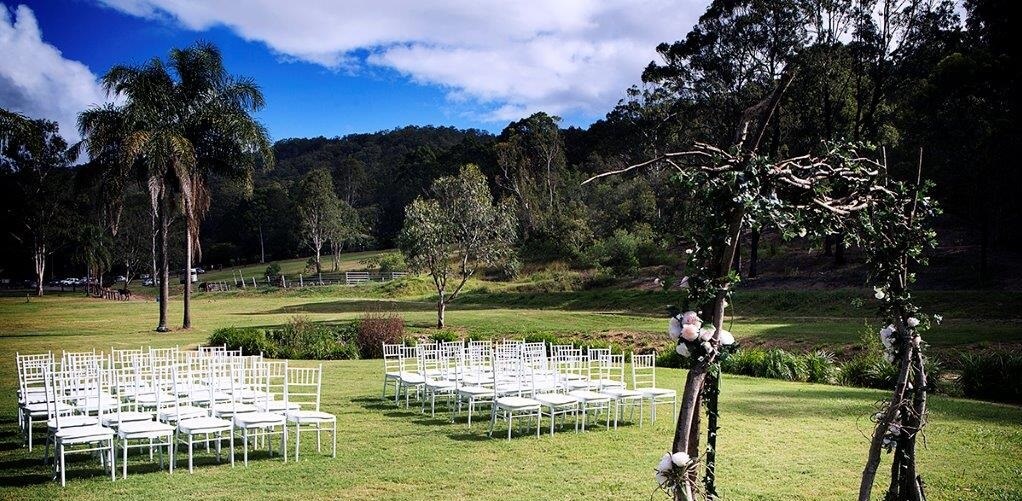 If you want your wedding ceremony to be on the water but don't fancy a beach wedding, Lake Water Lily could be the right wedding venue for you.
Lake Water Lily (as the name suggests) is a grassy peninsula set by a beautiful lake with clear waters surrounded by water lilies.
Beside the lake is a natural timber arch that provides the picturesque setting for the happy couple to recite their vows.
This natural location provides a gorgeous setting for your wedding ceremony and allows your photographer to snap some beautiful photos of your special day.
This setting has a magical balance of visual elements from the green grass, to the shimmering lake, to the natural wooden arch. It is a raw, rustic feel that is really set off by the colourful lilies.
About The Stunning Gold Coast Hinterland
The Hinterland is home to many breathtaking rainforest retreats and amazing wedding venue locations. Many local residents affectionately describe the Gold Coast Hinterland as "the green behind the gold" and the beautiful rainforest is definitely green!
The Beauty of Nature.
The GC Hinterland around Tamborine Mountain is an incredible outdoor wedding location if you are looking for a gorgeous & private setting, relaxed atmosphere and a unique place to celebrate your special day with friends, family and loved ones. The rainforest, creeks and incredible sunsets make this a picturesque location that is perfect for unique wedding photos.
Comfortable Gold Coast Weather All Year Round.
It is a common misconception that an outdoor setting will be too hot during Summer, however, we find that the Hinterland is usually 5 degrees cooler than the weather in the heart of the Gold Coast. This makes Mount Tamborine one of the best outdoor locations to celebrate a Summer wedding or for that matter, a wedding during any season of the year.
Hinterland Wedding Testimonials
"We recently had our wedding here and it was absolutely fantastic. We got married in the Rainforest Amphitheatre and fell in love with the location. Our guests all raved about the venue, vibe and food on the day. The DJ, which was part of our package, helped create the mood on the night and the dance floor was never empty. The coordinators Ciara and Meagan helped us plan in the meetings leading up to the day and were very quick to respond to any requests or questions during our planning process. The staff on the day made our wedding run flawlessly and went above and beyond to make me and my husband happy. They showed up with clear umbrellas when it rained unexpectedly, they made sure we always had drink and food within reach, and coordinated with all our vendors to set our wedding up exactly as we had envisioned. We stayed in the bridal cabin and loved that it was cleaned and tidied for us before we returned from our reception. We could not have been happier with the entire experience. Thank you." - Lauren Jansen, February 2022.
 "We want to say a huge thank you for making our day so special and memorable.  We were so impressed with your calm, professional and above all friendly manner - you really are a superstar.  The venue was perfect, the day was wonderful and you played a big part in that.  You made everything possible and went the extra mile so many times.  Please also pass on our thanks to Cassie and her team of excellent bar/wait staff.  They were attentive, friendly and cheerful and we enjoyed having them there, they really did a wonderful job. Thanks again, Monica." – August 2012.
 "I had the best day and it was so much fun! Also, if you could pass on my thanks to Scott, who helped out heaps on the night, he did a wonderful job and made everything run smoothly. Matthew and I both appreciate all the work you did for us. Thanks again." – 2011.
 "My partner and I chose to have our wedding at Cedar Creek and could not have dreamed of a more perfect day/weekend. Majority of our wedding guests, family and friends, stayed at Cedar Creek Lodges the whole weekend with us and have all raved about the weekend saying it was the best! The staff were more than helpful and were willing to attend and help out in any way possible to accommodate us with any requests or needs. The wedding coordinator is warm and lovely to deal with and listened to what my partner and I wanted and made sure our day was nothing but perfect! The food was amazing and every guest raved about it!! A stress-free, relaxing, exciting adventure for everyone (all ages) and we will definitely return and would highly recommend this spot for a wedding. Majority of our guests (80 people) say it is the most beautiful and well-organised wedding they have ever been too! The buffet brekky included was delicious and included everything you could imagine! Once again, my partner and I (family & friends) would like to thank all the team at Cedar Creek Lodges for everything they did for us :)" – 2011.
 "Thank you for looking after us on our wedding day. We love Cedar Creek so much and cannot wait to come back for a visit every year on our wedding anniversary. It certainly is the little things that count – and you all did such a wonderful job." – 2010.
"How can we thank you all for the most wonderful weekend of our lives? The service was outstanding, from the wonderful wedding coordinator and receptionist to the exceptional wait staff, bar staff and, well, everyone! The meals were delicious and the service even better. Our gorgeous reception room was decadent, warm and cozy. Thanks to you all for all you did to make our wedding day so memorable." - 2010.
"Got married at Cedar creek. Honestly one of the best experiences I have had. The place oozes customer satisfaction. If you want that special day and have serenity all around you then this is the place to do it!" - Mary Chase, 2021.
"Fantastic place for a wedding and reception, fabulous food and staff." - Harley Roberts, 2020.
"Fantastic wedding venue, beautiful surroundings." - Mac Loxton, 2019.
Hinterland Wedding Packages
We can tailor a customised wedding package to suit your desires. The scenic mountains, tranquil rainforests and fresh country air await you and your wedding guests.
Please enquire online for more information about our wedding packages.