Gold Coast Hinterland Helpful Information
Where is the Hinterland Gold Coast?
South East Queensland's best-kept secret (that is no longer a secret) is the stunning mountain rainforest region located west of the Gold Coast - The Gold Coast Hinterland.
The hinterland is widely known as 'the green behind the gold' and the area includes tourist-friendly Tamborine Mountain, stunning Numinbah Valley, UNESCO World heritage listed Lamington National Park and also overlaps with the Scenic Rim.
The natural beauty of the GC hinterland area offers a complete change up to the hustle and bustle of the busy Gold Coast beaches. 
There's a whole host of fun and adventure-filled activities to experience. Walk amongst the treetops on the Tamborine Mountain Rainforest Skywalk, tour the Numinbah Valley on horseback or go offroad on a hummer safari just to name a few.
What suburbs are found within the Gold Coast Hinterland?
The suburbs of the Gold Coast hinterland include:
Tamborine Mountain
Mudgeeraba
Tallebudgera
Guanaba
Cedar Creek
Wongawallan
Mt Nathan
Maudsland
Nerang
Advancetown
Beechmont
Lower Beechmont
Canungra
Kalbar
Beaudesert
Boonah
Does the Gold Coast Hinterland have any protected areas?
The GC hinterland region has a vast amount of natural heritage that is preserved in national parks and has been a major attraction for tourists the Gold Coast and Scenic Rim regions.
The majority of the national parks are UNESCO World Heritage-listed and are also listed as part of the Gondwana Rainforests of Australia.
Springbrook National Park
Springbrook National Park covers 2,720 hectares (6,700 acres) of rainforest, plenty of which is accessible by walking trails. Remnants of early forestry history remain; there are several waterfalls, including the famous Purlingbrook Falls, and also many gorges and much rainforest.
Tamborine National Park
Tamborine National Park covers 1,160 hectares (2,900 acres) of Mount Tamborine and is a relic of the once giant Tweed Volcano. Heading in a bit closer to the coast is the Currumbin Valley Reserve but this is not usually considered to be a part of the Gold Coast Hinterland.
Lamington National Park
Lamington National Park covers 20,590 hectares (50,900 acres) of rainforest, consisting mainly of two sections, the Green Mountains and Binna Burra. The longest walking track is 24 kilometres which equates to about 8 hours of walking time.
Tourism & Activities
The hinterland is home to many scenic, natural attractions and guest houses which has created a buzzing tourism industry. Various businesses have also popped up over the years providing major attractions for visitors to the Gold Coast and locals who reside in the region. 
Surveys of the hinterland's parks and forests have proven it to be one of Queensland's most popular tourist destinations.
There's something for everyone with beautiful bush walking tracks, hiking trails, lookouts, waterfalls, restaurants, an abundance of natural plants & native Australian animals, art galleries, charming villages and a wide range of scenic natural attractions. 
Take a look below to discover all that the Gold Coast Hinterland can offer you and your family! Some of the enticing tourist activities and experiences on offer include:
Wine tasting & wine tours
Bird-feeding
Bushwalking
Farm stays
Hinterland Tours
4WD Adventures
Rainforest Skywalk
Gold Coast Hinterland Great Walk (54km track connecting the Lamington and Springbrook plateaus.)
Other popular attractions in the area include:
Mt Tamborine Glow Worm Caves
O'Reilly's Guesthouse
The Natural Bridge
Binna Burra Lodge
Cedar Creek Estate
Free Camping Spots in the G
old Coast Hinterland
Unfortunately, there are no 'free' camping grounds in the Gold Coast Hinterland or Scenic Rim. 
In QLD, you can camp in natural surroundings in many national parks, conservation parks, forests and reserves. Formal camping areas are provided at most parks and forests where camping is allowed.
Here are some of the best places to camp:
Paddock Camping ($30/night)
Stones Throw Bush Camping ($20/night)
Camp Canungra (from $50/night)
Tucker Valley River Camp (from $60/night)
Mountain Creek Rainforest Camping ($40/night)
Binna Burra Campground, Lamington National Park
The Settlement, Springbrook National Park
Bigriggen Park Scenic Rim
Spring Gully Stays Canungra Valley
Nightfall Wilderness Camp, Lamington National Park
Southern Sky Glamping
Milford Country Cottages Scenic Rim
Cedar Creek Lodges Glamping Tents Mt Tamborine National Park (from $299/night)
Further Gold Coast Hinterland camping information.
Top Hinterland Wedding Venue
#1: Weddings at Cedar Creek Lodges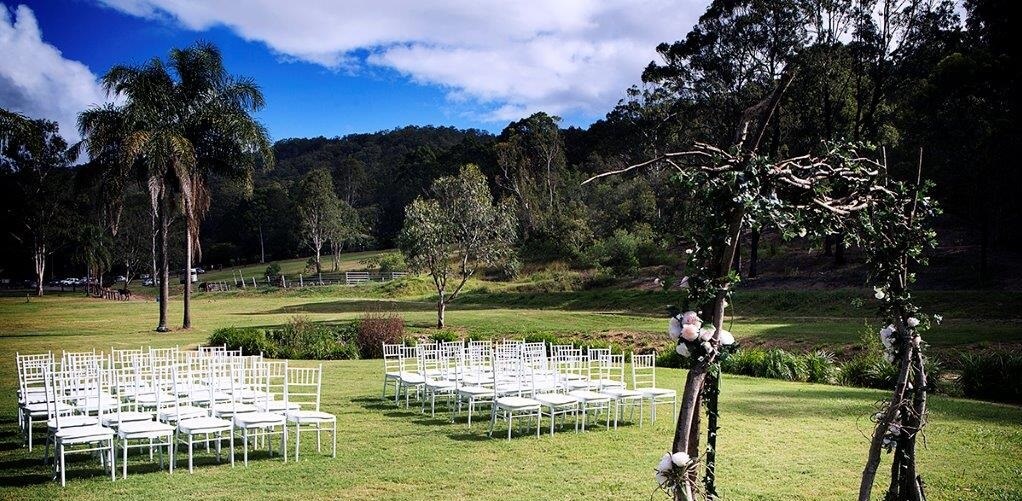 Cedar Creek Lodges offers 3 distinctly different Gold Coast hinterland wedding venue choices with various reception room options, all hosted on-site.
The location itself is set on 320 acres of lush Mt Tamborine rainforest with 3 picturesque wedding ceremony locations which truly are a photographer's dream. With multiple function areas, on-site accommodation and gorgeous photo opportunities, Cedar Creek Lodges has everything you need for the perfect hinterland wedding celebration.